Help Using PartSelect.ca
If you already know your part number, you may search for parts using either the manufacturer or PartSelect part number. Enter your part number in the Part Search box and click the "Search" button. Note that you must know the entire part number to use the Part Search.
For example, if your part number is 211125, type 211125 in the Part Search box and click the "Search" button. This will take you to a results page displaying the part number, a photo if available, the part description, price, and availability. Click on the "Add to Cart" button to add the part to your cart.
Model Search
The best way to find the repair part you need is to search our site using your appliance or electronic model number. Simply locate your model number (use our handy model number guide) and enter it into our Model & Part Number Search Box at the top of the page.
Once you have entered your model number and clicked "Search", you will see a list of diagrams for your model along with a description of each diagram, e.g. "FREEZER DOOR" or "CONTROL PANEL". Click on the diagram where you think your part is located.
This will take you to the parts list for that diagram, along with a full-size version of the diagram. Each part in the part list has a number next to it that corresponds to a number on the diagram. If there is a photograph of the part, it will be shown as well. You may change diagrams by clicking on another diagram in the left-hand window, which contains all diagrams for your model. You may scroll around in each window independently so if you don't see your part on the diagram or in the parts list, simply scroll around until you do. Once you have located your part, click on the "Add To Cart" button to add the part to your cart.
You can also search using the part number of appliance or electronic part you're looking to replace. If you have the part number, you can enter that into the Model & Part Number Search Box at the top of the page and you will be taken to that specific part to purchase.
If you don't know your part number or model number, you can always select the type of appliance or electronic from the left hand menu on the main page. You will then be able to narrow down the part you are looking for by brand, part type, size and color.
Search by Description
You can also conduct a part search without examining each diagram section, once you have selected your model. For a listing of parts matching your query, and to bypass the diagram schematics, follow these steps:
Type the part name in its simplest form into the search text box
(Enter roller instead of drum support roller)
DO NOT enter the pluralized form of a word
(Enter belt and not belts)
Try different spelling variations of the same word
(Ex: ignitor vs. igniter)
Locating Your Model Number
Look for a metal tag on your appliance. Usually the tag will be in an easy-to-find place. Your model number will be on the tag. Sometimes there will be two model numbers, as in the case of products purchased at Sears. Be sure to always use the manufacturer's model number when doing Model Searches.
1. Adding Items To Your Cart
To add an item to your cart, click on the "Add to Cart" button next to the part. This will add the item to your cart and take you to your shopping cart. From here you can make any changes to the item quantities, remove items one at a time, or empty your cart entirely. When you are satisfied with the contents of your cart, click on the "Proceed to Checkout" button. You will be taken to the next step in the purchase process, Purchasing Your Parts.
2. Purchasing Your Parts
Review your order for accuracy. Next select a shipping method and enter your shipping and credit card information. Note that all information on this page is protected by 256-bit SSL encryption. Once you have selected your shipping method and entered your credit card information, click on the "Submit" button. You will be taken to the final step in the purchase process, Order Confirmation.
3. Order Confirmation
You will be given an order number, which you should make a note of for your records.You will also receive a confirmation by email with the details of your order. When your order ships, you will receive a shipment confirmation by email with the details of your shipment, including the tracking number. If tracking is available for your shipment method, a tracking link will appear in your email. Click on the link to track your parcel online.
Availability
| | |
| --- | --- |
| In Stock | The item is in stock in one of PartSelect's warehouses, and will ship today if your order is placed before 4:00 PM Eastern time. If your order is placed after 4:00 PM EST, your in stock items will ship on the next business day. |
| On Order | Item is on order and usually ships in 7 - 10 business days. |
| Special Order | Item is not in stock and must be ordered. Item usually ships in 10 - 14 business days. |
The in-stock portion of orders received later than 4:00 PM EST Monday through Thursday will ship the next day. The in-stock portion of orders received later than 4:00 PM EST on Friday or anytime on Saturday or Sunday will ship the following Monday.
No Longer Available
Sorry, this part is No Longer Available (NLA) at PartSelect.ca, which means:
The part is no longer sold by the manufacturer.
The manufacturer does not stock any substitute parts to replace this one.
We cannot obtain the part through any other means.
Our call center and online agents are, unfortunately, unable to help you locate this part, but you may still be able to find the part elsewhere. We recommend:
Typing your part number into a search engine and checking to see whether another company might stock it.
Searching online stores like eBay for your part number.
Visiting a local appliance store or parts dealer to see if they have this part in stock.
Contacting a local technician, who may be able to repair your existing part or replace it with their own solution.
Contacting the manufacturer of your appliance directly to check for their recommendations.
Series Numbers
Manufacturers often make changes to models, which can sometimes result in different parts being used for your model. For instance, a motor may be changed mid-year, which could mean that a different wiring harness has to be used. When a series number is shown on your appliance, you will need to identify what series your appliance belongs to. The series is the first few characters of your serial number. A serial number is found on the metal plate or the paper sticker attached to your appliance. It may look something like this:
When a given part in a model's part list has a series number, it means that the part is the right one for all models whose serial number starts with that series number, or a higher series number. If there is an exception to this rule, another part will be listed for you. To put it another way, you should select the part with the highest series number which is less than your entire serial number. For example:
Example Series Numbering System
| Part's List Series Number | Serial Numbers it Applies To |
| --- | --- |
| Series 10 | 1000000 ... 1999999 |
| Series 20 | 2000000 ... 5999999 |
| Series 60 | 6000000 ... |
Shipping Methods and Costs
We offer you a variety of shipping options in order to best meet your appliance part needs. We work hard to ensure that you are charged the lowest possible rate for shipping, and that the rate you are charged is as fair as possible.
Please note that not all methods are available from all of PartSelect's warehouses. The available shipping methods will be displayed to you when you are making your purchase. Costs include shipping and handling (no additional handling charges).
PartSelect will ship your parts to any physical address in Canada. All items ship from Canada. This means you are not charged any import duty or brokerage fees (which may be hidden in the shipping cost) as you are if ordering from US-based sites. Because of duty restrictions PartSelect is unable to ship items outside Canada. If you are a US customer interested in purchasing parts from PartSelect, please visit PartSelect.com and place your order there, so that your parts will ship from one of our US warehouses.
Orders usually arrive in 3-5 business days after shipping. Please note that PartSelect.ca is unable to deliver to PO boxes. Customers should provide street / civic addresses.
Some of PartSelect's warehouses ship only by courier and cannot ship to PO Boxes. Customers who put in PO Box addresses will be contacted via email for a correction. PartSelect is not responsible for delays in shipping this may cause.
Oversized Items and Extra Shipping Charges
In some cases customers are required to pay extra shipping charges beyond those listed above. Extremely large items may be restricted to more expensive methods (air shipment only, for instance) or the weight or size of certain parts may cause excessive charges. In those cases the customer will be contacted and offered the choice of cancelling the order, or paying the extra freight. Customers will not be charged additional freight without their authorization.
Shipping to P.O. Boxes
Customers should provide street / civic addresses. Some of PartSelect's warehouses ship only by courier and cannot ship to PO boxes. Customers who put in PO box addresses will be contacted via email for a correction. PartSelect is not responsible for delays in shipping this may cause.
Cancellations or Changes
PartSelect processes your order as quickly as possible. When we receive your order, it is routed electronically to one of our warehouses. Use our self-service feature if you wish to cancel your order before it ships. Orders cancelled before any items have shipped will have all shipping costs refunded. Once your parts have been shipped, you must wait for them to arrive in order to return them for a full refund.
Your confirmation email may not arrive until after your purchase has already shipped, so please contact PartSelect immediately at if you wish to cancel or make changes to your order.
Returns
For your peace of mind, we offer a 365-day return period. Use our self-service feature to complete your return online.
Please be sure your return meets the following conditions:
Parts must be in resaleable condition to qualify:
"Resaleable" means that the part must not have incurred damage, such as signs of installation by the customer, marks, or scuffing.
Part must also be in its original packaging to be considered resaleable. Please inspect part before removing from its packaging, as this can cause return to be rejected.
Electrical parts are subject to additional scrutiny.
Rejected returns cannot be shipped back to customers.
Returning Parts to PartSelect:
Please have your model number and serial number ready when contacting our customer service to begin the return process.
After contacting us, you will receive an email with return shipping details (remember to check your junk mail).
Returns must be received within 30 days of the date the items were originally shipped.
Customers are responsible for the cost of return shipping.
If the return is a result of our error, or the part was lost in shipping, contact us within 10 business days to arrange a refund. In this case, we will refund the original cost of shipping after your return has been processed, and provide you with a pre-paid shipping label if we would like the part returned to us. Additional information such as photos of the part may be required to complete a return of this nature.
Receiving Your Refund:
Please allow 7-10 business days after your return has been successfully processed for your refund to appear.
If your refund is taking longer than expected, or you would like to check its status, please contact our customer service desk for an update on your return.
Cookies
Cookies are small bits of information that are stored by your browser either in memory or on your computer's hard drive. Our cookies are used to maintain the information in your shopping cart and nothing more. Most browsers accept cookies by default but you can usually change your browser to prevent cookies from being accepted. In order to make use of this site, you need to make sure that cookies are enabled in your browser.
Secure Shopping
Our Safe Shopping Guarantee protects you while you shop at PartSelect so you never have to worry about credit card safety. We guarantee every transaction you make at PartSelect will be safe. This means you pay nothing if unauthorized charges are made to your card as a result of shopping at PartSelect. See below for further details of this guarantee.
Why is PartSelect so safe? When you shop at PartSelect, you'll be one of thousands of customers who have safely shopped with us without credit card fraud. Our Secure Sockets Layer (SSL) software is the industry standard. It encrypts all of your personal information, including credit card number, name, and address, so that it cannot be read as the information travels over the internet.
Still don't want to use your credit card on the Internet? That's okay, too. Just contact us at customerservice@partselect.ca and we'll be happy to take your order via email. Please note that sending credit card details via email is not as safe as using our on-line secure ordering system.
If you're not comfortable transmitting this information online at all, simply call PartSelect's customer service staff toll-free at between 7:00 AM and 12:00 AM Eastern time, 7 days a week. We'll be happy to take your order over the phone. Your order can be placed most quickly if you conduct your research using the web site first, and have your part numbers ready for the Customer Service Representative.
CVV
Providing your CVV ("Card Verification Value") number to an online merchant proves that you actually have the physical credit or debit card in your possession. This helps to keep you safe and reduce fraud.
CVV numbers are NOT your secret PIN (Personal Identification Number). Never enter your PIN number when asked to provide your CVV.
Turn your card over and look at the signature box. You should see either the entire 16-digit credit card number or just the last four digits followed by a special 3-digit code. This 3-digit code is your CVV.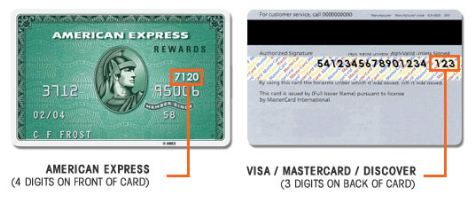 One Price Guarantee
All our appliance parts come with a one price guarantee, so the price you see on the site is the price you pay for the part (plus shipping costs). If you incur any additional charges due to purchasing a part from our site, we would be happy to refund those fees.
Parts Warranty
Unlike many of our competitors, PartSelect sells only Original Equipment Manufacturer (OEM) parts. This means what we sell are the parts the manufacturer recommends and not after-market parts that may or may not work properly on your appliance. All our OEM parts carry a one-year manufacturer's warranty.
Sales Tax
PartSelect charges GST / HST and provincial sales tax in all Canadian provinces as appropriate.
| Jurisdiction | Tax ID Number |
| --- | --- |
| British Columbia | R469283 |
| Manitoba | 083187-5 |
| Ontario | 5895-2527 |
| Prince Edward Island | 247014 |
| Quebec | 1215509806 TQ001 |
| Saskatchewan | 2419851 |
| GST / HST | 826361297RT0001 |